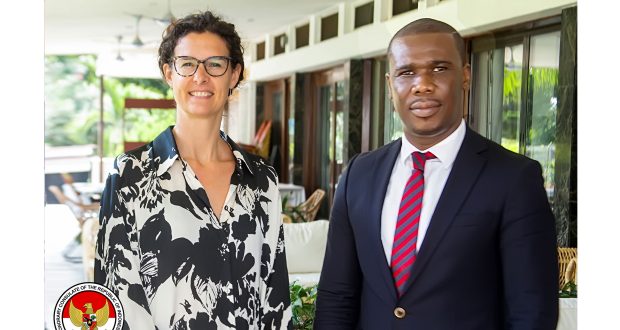 The Honorary Consul of the Republic of Indonesia in Ghana, H.E. Paskal A. B. Rois has paid a courtesy call on the British High Commissioner to Ghana, H.E. Harriet Thompson at her residence in Accra.
The visit was aimed among other things not only at deepening the bond of friendship and diplomatic ties between Ghana, Indonesia and Great Britain but also promoting tourism and bi-lateral trade within the Ghanaian space. Both leaders also shared a lot of opportunities that are available to the three countries for exploration.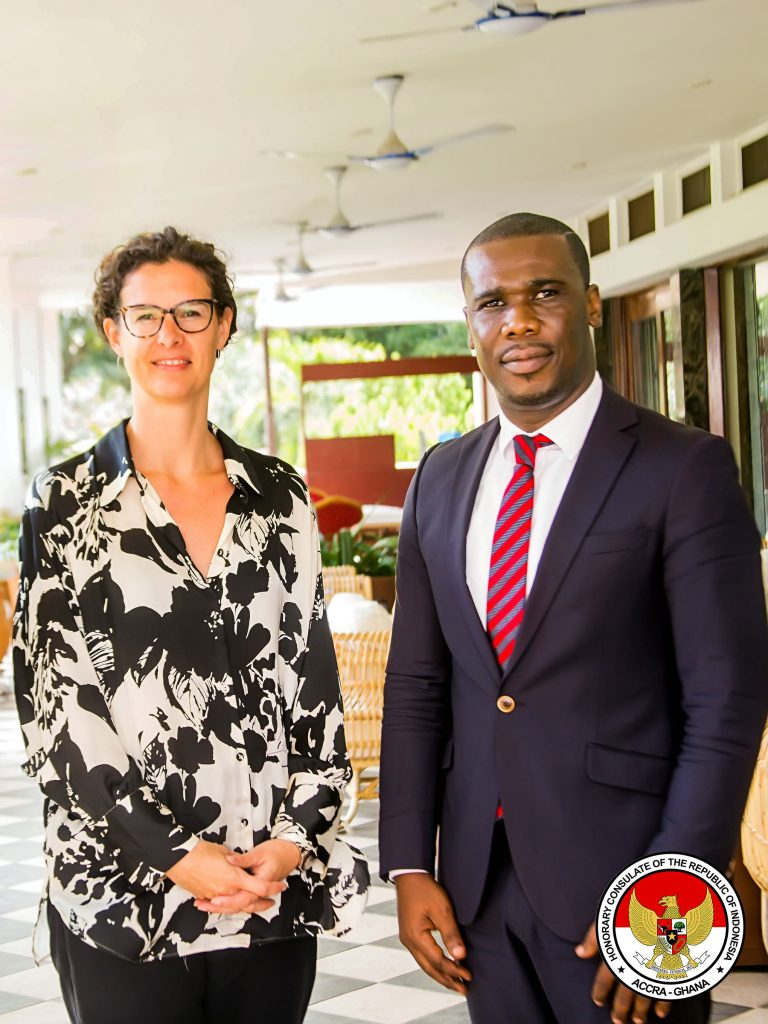 The Indonesian Consul informed Madam Thompson that Ghana has over the years improved and increased her trade with Indonesia which has a population of more than 270 million people. According to him, more Ghanaians are getting to know about Indonesia and her potentials which can be found in areas such as agriculture, mining and petroleum, commerce, industry, tourism and trade. Honoraray Consul Rois noted that a number of Indonesian companies are working in Ghana, producing popular food and other items such as Indomi Noodles, Viking Cooking Oil, Soklin, Medisoft and other soaps and detergents as well as Santex hand wash or sanitizers amongst others.
Sharing with the British High Commissioner some of his success stories since assuming office some one year ago, the Indonesian Honorary Consul to Ghana said he has been able to initiate the Indonesia-Africa Trade Mission which is aimed at deepening bi-lateral trade and relationship between the peoples of the African continent and Indonesia thereby increasing trade between Ghanaians as well as Indonesians and Africans.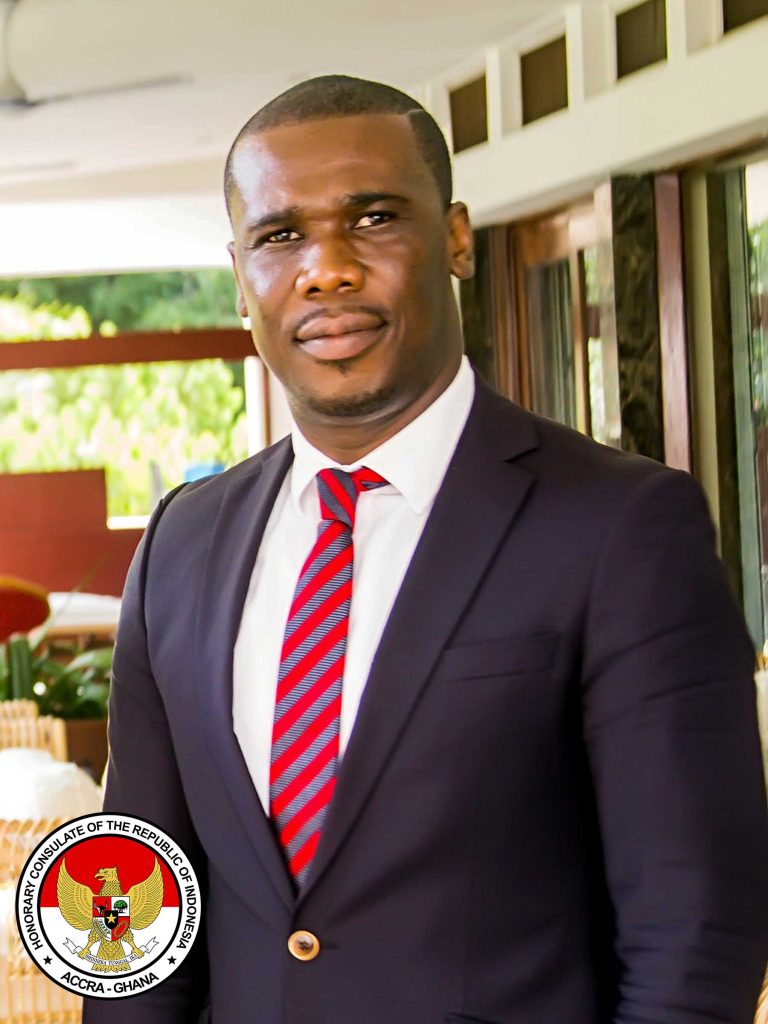 Mr. Rois added that Indonesia has given fully-funded KNB scholarships to a number of Ghanaians to pursue various courses in Indonesia's topmost tertiary institutions.
He disclosed that about ten (10) Ghanaians are currently undertaking their Doctorate of Philosophy Degree programmes in Indonesia. According to the Honorary Consul, these programmes are partially funded by the Indonesian government, adding that five (5) of such beneficiaries left Ghana in July, 2022 for Indonesia to defend their project or thesis with the remaining five (5) also preparing to do same later. As part of this scholarship requirement, the beneficiaries took care of their feeding among others while the Indonesian government bore the full cost of tuition and its related expenses.
Cultural exchange programmes are also on-going between the two states so as to explore larger areas of co-operation for the benefit of the two countries. The move, the Honorary Consul noted has wept the appetite of many Ghanaians who are now willing and ever ready to visit and learn more about the culture of Indonesia.
Mr. Paskal A. B. Rois who also doubles as the Chief Executive Officer (CEO) of Rig Oil International Services (ROIS) Limited, a subsidiary of Rois Group of Companies Limited, shared with the High Commissioner how his company had won a contract with some companies in the oil and gas space including MODEC Production Services Ghana JV Limited with the latest one being Tullow Oil Ghana Limited, Yinson West Africa Production Limited, to render services and provide supplies to the FPSO ranging from consumables to electricals and mechanical parts. Because most of these supplies from overseas are from the United Kingdom, the Honorary Consul used the opportunity to appeal to the High Commissioner to assist ROIS Limited and other companies in the oil and gas industry to partner and deepen trade relationship with British companies operating in the oil and gas space for collaborations.
Mr. Rois noted that Indonesia produces one of the best vegetable oils in the world, adding that the country can also boast of clothing and batik potentials. He explained that while Ghana is doing well in African batik, the country could do better if she learns more from other best practices around the world particularly the expertise in Indonesia. Mr. Rois made the pledge to facilitate any of such moves between the two countries.
The British High Commissioner to Ghana, H.E. Harriet Thompson congratulated Mr. Paskal A.B. Rois on his appointment and achievements in the current diplomatic space and pledged the commitment of her High Commission in supporting Ghanaian businesses and individuals to expand and flourish. According to her, Ghana is a peaceful and beautiful place to live in, adding that the features of Ghana's hospitality are worthy of emulation by many countries. She was of the view that her tour of the country including the recent one to the Volta Region attests to these facts.
Madam Thompson was also excited about the intention of ROIS Limited and other companies to partner their British company contemporaries in the oil and gas sector and pledged her readiness to link ROIS Ltd to the Trade Department within the United Kingdom (UK) Embassy to assist as soon as possible in the realization of such a laudable business partnership objective in the UK.
Touching on education in Great Britain in relation to that in the developing world, Ms. Thompson noted that the UK has a strong educational system that can be emulated by all and sundry including many Ghanaians, Indonesians and other citizens for their benefit.
She welcomed any form of educational collaboration from Ghana and Indonesia, saying her outfit would be ever willing to assist where necessary in the realization of such objectives.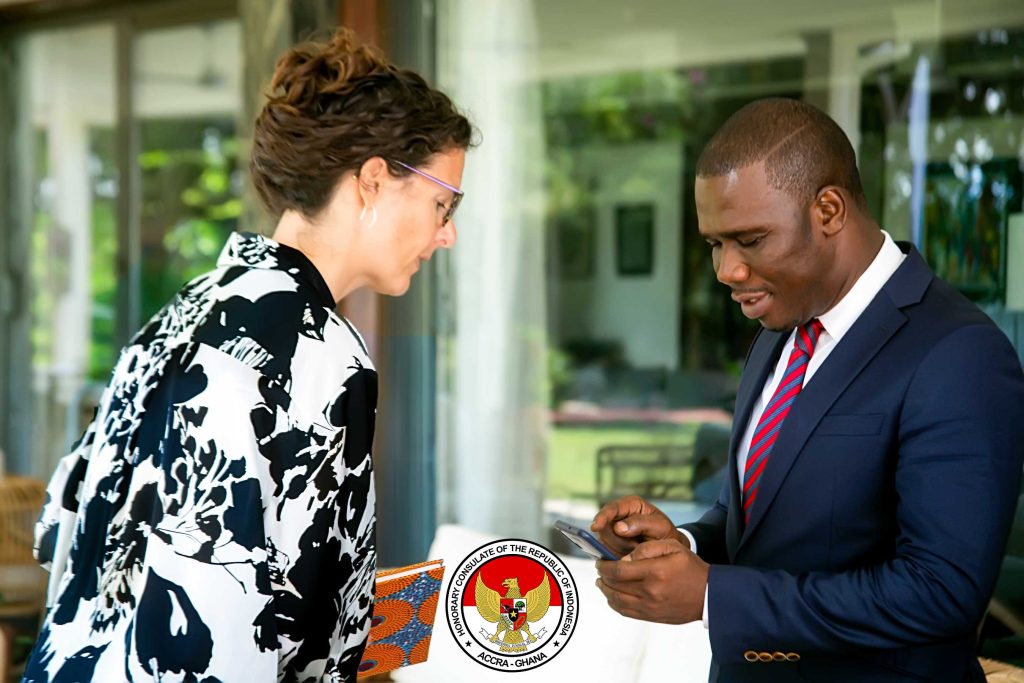 She welcomed any form of educational collaboration from Ghana and Indonesia, saying her outfit would be ever willing to assist where necessary in the realization of such objectives.
The two leaders described the engagement as very fruitful and rewarding and pledged their support to each other's goals and vision in the performance of their duties in the country.
END
By:Admin
0 comment